Posts for: April, 2015
By Broadway Oral Surgery
April 25, 2015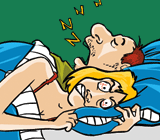 You may get a laugh out of jokes about snoring, but in fact snoring and "Sleep Apnea" ("a" – without; "pnea" – breath) is no laughing matter. Nights of chronically disturbed sleep results in accidents, lost productivity and even depression, as well as problems at work and with relationships. Chronic snoring as a result of sleep apnea, results in sleep deprivation and health problems such as high blood pressure, congestive heart failure, heart attacks, brain damage and strokes.
What causes snoring?
Snoring results when soft tissue structures block the airway (windpipe) in the back of the throat. These structures include tonsils, soft palate, the uvula (the little punch-bag shaped structure at the back of the throat), and fat deposits. As you relax in sleep these tissues collapse onto themselves and the tongue drops back, causing a blockage in the air passage to the lungs. These obstacles to airflow create the familiar sound that we know as snoring.
What is Sleep Apnea?
When the obstruction is severe, it can block airflow completely. Obstructive Sleep Apnea (OSA) occurs when your upper airway is so seriously obstructed that there is significant loss of airflow, or even a complete arrest of breathing for 10 seconds or more. Reduced airflow into the lungs causes low levels of oxygen in the blood reaching the brain. Your brain, saving itself from suffocation, wakes you briefly out of deep sleep, followed by a loud gasp as the flow of air starts again. This can happen more than 50 times an hour. Low oxygen levels and fragmented sleep cause most of the dangers of sleep apnea.
What can be done to combat sleep apnea?
Medical and dental treatment includes:
Staying physically healthy: Being overweight contributes to OSA, so start by losing weight and exercising.
Oral Appliance Therapy: Specially designed (retainer-like) appliances are designed to maintain an open, unobstructed, upper airway during sleep.
Continuous Positive Airway Pressure (CPAP): CPAP bedside machines send pressurized air through a tube connected to a mask (covering the nose and sometimes mouth), keeping your airway open.
How can we help you combat your snoring and sleep apnea?
The first step is assessment and diagnosis. Dentists, specially trained in sleep medicine, are in a unique position to help diagnose and help treat snoring and sleep apnea as part of a medical team. Contact us today to schedule an appointment if you think you have a problem with snoring and OSA — or if your spouse thinks you do. You can learn more by reading the Dear Doctor magazine article "Snoring and Sleep Apnea."
By Broadway Oral Surgery
April 10, 2015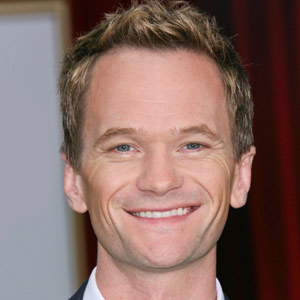 A few days before the Oscars, Vanity Fair magazine asked Academy Awards host Neil Patrick Harris to name his most treasured possession. Was it his Tony award statuette for best leading actor in a musical? His star on the Hollywood Walk of Fame? The stethoscope he wore while playing teenaged doctor Doogie Howser on TV? No, as it turns out, the 41-year-old actor's most treasured possession is… his wisdom teeth. Yes, you read that correctly. "Oddly, I still have my four wisdom teeth," Harris said. "I refuse to let them go or I'll lose my wise parts."
How odd is it for a 41-year-old to have wisdom teeth? Actually, not that odd at all. While it is true that wisdom teeth are often removed, there's no one-size-fits-all approach to this. It all depends on whether they are causing problems now, or are likely to cause problems in the future.
The trouble wisdom teeth cause is related to the fact that they are the last molars to come in, and that molars are large in size. By the time wisdom teeth appear between the ages of 17 and 21, there often is not enough room for them in the jaw. Sometimes it's because you may have inherited a jaw size that's too small for your tooth size; and generally speaking, the size of the human jaw has evolved to become smaller over time.
If room is lacking, the adjacent molar (that came in earlier) can interfere with the path of eruption — causing the wisdom tooth to come in at an odd angle. The wisdom tooth can hit up against that other tooth, possibly causing pain or damaging the adjacent tooth. This is known as "impaction." Sometimes the wisdom tooth breaks only partway through the gum tissue, leaving a space beneath the gum line that's almost impossible to clean, causing infection. A serious oral infection can jeopardize the survival of teeth, and even spread to other parts of the body.
If a wisdom tooth is impacted, will you know it? Not necessarily. A tooth can be impacted without causing pain. But we can see the position of your wisdom teeth on a dental x-ray and help you make an informed decision as to whether they should stay or go. If removal is the best course of action, rest assured that this procedure is completely routine and that your comfort and safety is our highest priority. If there is no great risk to keeping them, as Neil Patrick Harris has done, we can simply continue to monitor their condition at your regular dental checkups. It will be particularly important to make sure you are reaching those teeth with your brush and floss, and that you keep to your schedule of regular professional cleanings at the dental office. All healthy teeth are indeed worth treasuring.
If you would like more information about wisdom teeth, please contact us or schedule an appointment for a consultation. You can learn more by reading the Dear Doctor magazine articles "Wisdom Teeth" and "Removing Wisdom Teeth."